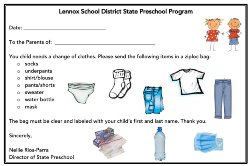 What

Meet and Greet Staff / Conocer y saludar al personal

When

8/16/2022, 3:15 PM

–

3:45 PM

Where

Refer to the Notice of Action for your child's class. / Dirígase a la notificación para el salon
Take your child to meet the teachers. Bring the change of clothes. (Gallon size ziploc bag, label with your child's name, blouse/shirt, shorts/pants, socks, mask, and undergarments).

Lleve a su hijo a conocer a a maestra. Lleve el cambio de ropa. (bolsa transparente de un galon con el nombre de su hijo, camisa, pantalones, calcetines, cubrebocas, y calcones).